ENERGY-EFFICIENT WINDOWS
Masterpiece Leaded Windows has become the leader of the leaded glass industry by changing from a single-pane line to our new Energy-Tech™ triple-pane leaded glass windows. We've engineered our triple-pane windows, exceeding all Energy-Star® requirements, to add elegance to the home while providing year-round comfort. Optional Low-E blocks infrared light and reduces ultraviolet light.
When compared to single-pane or dual-pane glass, Energy-Tech triple-pane leaded windows can make a dramatic difference in your home.
---
WHAT IS LOW-E?
Low-E is a clear, low-emissivity coating applied to one side of the glass in our triple-pane windows. This thin coating filters the sun's energy in the summer and reduces heat loss in the winter, making even energy bills look better.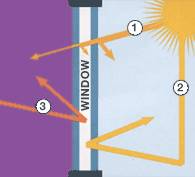 Benefits of Low-E
1. Low-E allows most natural light to enter freely but absorbs a significant portion of short-wave heat energy.
2. In the summer, long-wave heat energy radiating from objects is reflected back outside, lowering cooling costs.
3. In winter, internal long-wave heat energy is reflected back inside, lowering heating costs../
LEARN MORE ABOUT ENERGY EFFICIENT WINDOWS BY VISITING THESE SITES