ABOUT MASTERPIECE LEADED WINDOWS
MASTERING A RICH TRADITION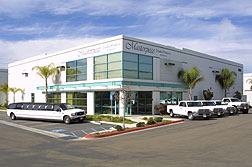 With its origins rooted in the centuries-old art of stained glass, clear leaded glass windows were popularized by Frank Lloyd Wright to carry out the linear designs of his Prairie School windows. Simple, yet stunning, his artful windows unified interior spaces with nature.
Since 1991, guided by CEO and founder, Joel Debus, Masterpiece Leaded Windows has perfected the art while preserving integrity by using genuine lead, premium glass and custom construction methods. A home or a model featuring leaded glass windows not only creates curb appeal, but also an aura of refined elegance and taste. Leaded glass can be used wherever you want to make a dramatic statement – in fixed and sliding windows of every size and shape, sliding and interior doors, and cabinets.
Joel's first professional experience in leaded glass-making initially involved designing several elaborately decorative stained glass windows for Barratt Homes. While his designs held strong in the homes, time to construct these fanciful windows was inadequate in Joel's pursuit to provide the consumer with elegance at an affordable price.
Soon after, Joel developed a mathematically based system to produce several styles of custom leaded glass windows at a much faster production rate than the traditional template methods often used. These methods were conceived in order to offer a product originally available to only wealthy homeowners, to a broader spectrum of customers. Joel's new intent to use exclusively colorless glass and bevels sought to bring together the relationship among nature, geometry, and design; all three channeled into a wellspring of designs available today in most homes. He employed glass to create a quality of repose by diffusing light into the room through the use of bevel patterns and diamond-like bevel clusters. The dramatic effect produced by scattering natural light into the room soon became available to most homeowners in Southern California. In addition, the use of privacy field-glass was Joel's answer to Developers building homes side by side with facing bathrooms, among other areas in the home where privacy is desired. And in areas where the view is significant, clear leaded windows unify interior spaces with nature.
his new product line of elegant leaded glass windows was first installed into a Shea Homes model in 1991. Joel's innovation sold to 75% of Shea's homebuyers, leading Shea to invite Masterpiece leaded windows into several upcoming projects. "And it took off from the most humble beginnings," says Debus.
Today, Masterpiece windows are common to thousands of homes in Southern California and Nevada. Masterpiece works with about 25 of the largest homebuilders in Riverside, Orange, and San Diego counties, as well as the Las Vegas division. Masterpiece Leaded Windows has been made available through The Home Depot via Windowmaster, which was bought by JELD-WEN, Inc. in January 2004. Masterpiece is also on regular display at many of the Interior Design tradeshows visited by millions of home consumers each year.
"Our commitment continues strong as I have promised to offer the best product in the market at the most affordable prices. Belief in our window products and continuous expansion in technology has allowed us to do exactly that," Joel Debus

Joel Debus – CEO and founder.
RELATED LINKS